Updated 2019: The trend in modern phones and tv is for the viewing glass to get bigger and bigger and the surrounding rim bit to get smaller. Well, Parkray are certainly on trend with their wood-burning stove range, the Parkray Aspect models.
Pictured below is the Aspect 5. Now that's what I call a large viewing window! That's why they named the range "Aspect" I presume – those clever Parkray people 🙂 Some customers think it looks like a beer-fridge so I suppose aesthetics is in the eyes of the beholder. We would prefer more "door at the bottom" to cover at least part of the view of the grate but that would be being pedantic.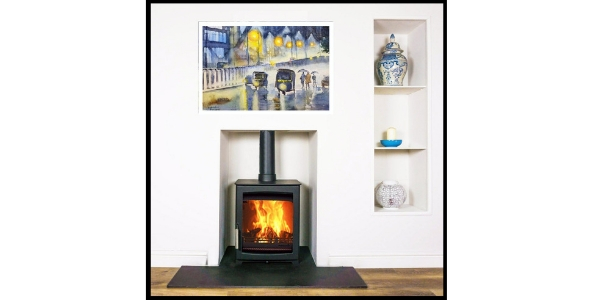 The Parkray 5 has a nominal output of 4.9kW and a useable output of between 4kW and 7kW. It is Defra approved for a smoke control area and can be installed on a 12mm hearth (freestanding only). Efficiency is 79.1%. Weight is 74KG.
You can see just how huge the glass is on the Aspect 5 when it is loitering next to a Charnwood C4 (what I would class as a stove typical of the last ten years and starting to look a little jaded in 2019).  There really is a whopping difference. If I was in charge of marketing at any stove manufacturer I would be getting my tape measure out and seeing if I'm up to scratch in this area. Wait until you see the 8kW, it is positively Imax in character!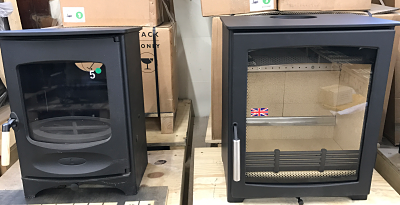 CHECK OUT PARKRAY@STOVEFITTERS FOR THE LATEST OFFERS
To give you an idea of what you will be gazing at of a winter's evening and to present a comparison – here are some typical stove glass sizes:
DG IVAR 5 33 x 32cm
AGA ELLESMERE 4 26 x 27cm
AGA ELLESMERE 5 33 x 32cm
PARKRAY ASPECT 5 36 x 45cm
However if your budget doesn't stretch to the Parkray's be sure to check out the
Flavel Arundel XL
(on the right, the Parkray Aspect 5 on the left)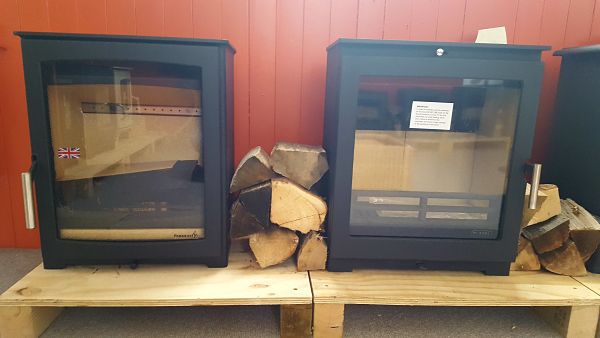 Now these are all already classed as "large glass" stoves (it is not as if we are comparing the new Aspect range to any "glass-challenged" burners).
Parkray have extended the Aspect range and we now stock the following:
That offers a nice variety of dimensions That should accommodate most people's situations. All are Defra Approved for those pesky smoke control areas.
Julian's quick review: The large glass gives the stoves a modern and fresh look although the huge glass may be not be to everybody's taste as it is not subtle. The door handle locates well and is precise. I like the "single air control" (as is the modern way of things). I do though prefer a "sideways swipe" air control; the push-pull rod does the job but is rather short in travel and scratchy rather than smooth.
We've moved on a bit from the "good old days"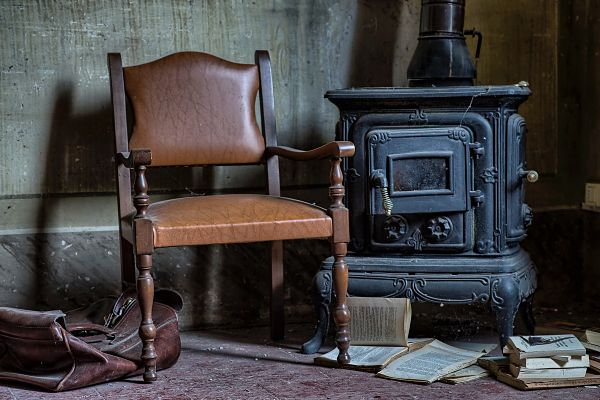 See the full Aspect range here
Parkray are owned by the Hunter Stoves Group.