Posted by
Julian Patrick
on May 5, 2013 in |
Comments Off

on Wood burning or multifuel stove? A stove fitter decides.

Quick answer
"Wood only" means the stove only burns wood. Multifuel means the stove can burn wood AND coal/smokeless fuel. Some wood-only stoves can be converted to multi fuel with a kit (although this will usually reduce the space available for logs). Over 75% of people who choose multi fuel end up burning only wood. Wood-only is the trend (2015>2017) as wood is a renewable resource so better for the environment
So should you purchase a wood or a multi fuel stove?
Let's first look at some terminology…
Actually… before we start: DO NOT buy any stove until you know that it will fit wherever it is that it is going to be placed (if it is to live in a recess then is the recess large enough for the stove with the required air gap around it?).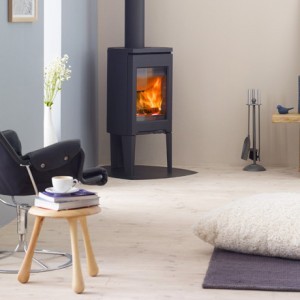 Wood burning stove: is a term often used to cover all appliances that burn wood/smokeless fuel/coal but really it means wood only.
Wood burning only stove: means that you can only burn wood. This is a most environmentally sound option as wood is a renewable source of energy.
Multifuel stove: means that you can burn smokeless fuel AND wood (and coal but we don't speak too much of it because it is sooty, it clogs up liners with soot and it is bad for the environment).
Solid fuel: "a cover all" term for wood, pellets, hay, smokeless fuel/coal etc. Basically not liquid or gas.
Some "wood burning only stoves" can be converted to multifuel
stoves with an addition (although this will likely reduce the space available for logs). The addition is a simple flat grate on the inside floor of the stove: smokeless fuel likes air from below (hence smokeless fuel sits on a grate) whilst wood performs best when there is no air from below (hence if there is a grate instructions will tell you to "build up a bed of ash" to seal the holes in the grate).
The advantage of "wood only" stoves when choosing between a wood or multifuel stove is a little more room for logs and a smug feeling of being environmentally friendly ;-). Are you a wood scavenger (great fun)? More room for logs is a great reason to think about when trying to decide between a wood burning or multifuel stove.
How much wood can you get hold of is a good question to ask yourself? You can purchase wood of course but if not then you have to source it, store and dry it. If there are times when wood is difficult to get hold of maybe being able to add smokeless fuel is a benefit (you can always buy compressed sawdust logs which burn beautifully, better than wood actually because they are so dry).
The advantage of multifuel is that you can choose your fuel.
Personally I like wood-only stoves because wood is a renewable resource. Will you choose a wood burning or multifuel stove?
By Julian Patrick