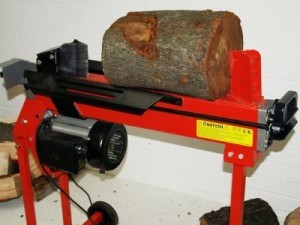 "Skull Crusher?", "Nut Cracker?", "Stump Splitter?"… what will you call yours?
No more back breaking axe work (I've been looking for a reasonably priced electric log splitter for a while and this is the one I finally chose… Julian).
It's heavy! I was surprised when I unwrapped my first one just how sturdy this little fella is. It comes with a heavy duty stand so you don't have to bend down (saving that back again).
The Duocut blade ensures that the log is attacked from both ends thus ensuring increased efficiency. It can cope with logs up to 45cm in length and 50cm in diameter.
The splitter is CE approved and weatherproofed to IP54.
Find it in The Stove Fitter's Warehouse
You don't need to go quite this large…
…