Posted by
Julian Patrick
on Aug 28, 2012 in |
Comments Off

on Lining a fireplace
Lining a fireplace gives great results
UPDATE: ALTHOUGH I HAVE USED DRI-WALL ADHESIVE TO STICK HARDIEBACKER TO WALLS THE MANUFACTURERS RECOMMEND A GRAB ADHESIVE. SEE http://www.jameshardie.co.uk/hardiebacker-12mm-cement-board
Before we get stuck in, there are various ways of making the inside of your builder's opening look like something other than a dark, soot-stained hole in the wall. You can tart up what you have (e.g. keep the stone or brickwork); fill any holes with mortar and just paint; render with concrete; smooth line with board. It might be worth you reading all of these sections before deciding.
Read on for the full info on creating a perfect, smooth recess as shown in the picture. OR if you are a little lazy, or are happy with the rough and ready "honest" approach – here's the fast method (opens in a new page as you might want to read both articles).
This smooth-lining is my favoured method over rendering a fireplace and approx. 90% of all my in recess installs follow this method: it is fast, cheap, easy and the end result is very tidy. It is a method worked out and improved over the years.
I use 12mm cement board (Google 12mm cement board Hardiebacker, NOT the new lightweight plasterboard stuff) and attach it to the inside of your recess (left, right and rear). The cement board is smooth and can be painted. I have lined, at the time of writing, over 100 fireplaces with Hardiebacker over a five year period and have never had a customer complaint (aside from a few small spider cracks sorted with Decorator's Caulking).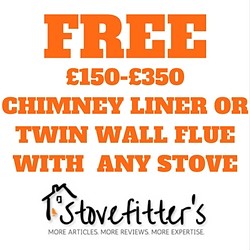 HardieBacker® 12mm cement backerboard (previously named HardieBacker®500) has been evaluated in accordance with the protocols and acceptance criteria of EN 12467 and was found to be compliant. HardieBacker® 12mm cement backerboard is fire rated class A1, meaning the product is non-combustible. HardieBacker® 12mm cement backerboard is CE approved and BBA certified since May 2004. Hardiebacker say it is fine for up to 100 degrees centigrade (it will not set on fire but can crack).
Note that you can get spider cracks in Hardiebacker (especially if if your stove is closer than 6″). This is more likely on the rear wall (where stoves are often 3″ or 4″ away from the wall). Cracks will usually be minor and can be repaired with Decorator's Caulking. I have heard that compressed Vermiculite board (about an inch thick) is far better but it is very expensive and thick (reduces width of recess maybe too much). If you are after perfection then you might wish to add a layer of thin steel (1-2mm) to the Hardiebacker as a final and paintable surface. I have done this on back walls a few times.
Worth a read: http://thegreenlivingforum.net/forum/viewtopic.php?f=21&t=107911 (as I said I must have done 150 or more with concrete board and only ever had a couple of call backs due to minor spider cracks – certainly never had a board come away – but I do like to present all views).
Another product is Thermalux (http://www.stovesonline.co.uk/stove-chimney-documentation/Thermalux-Heatproof-Stove-Installation-Sheets-72.pdf). I have not used it but a stovefitter I know uses it all the time to line recesses. Other lining products include Supalux, Skamolex, or Glasroc FireCase.
Your "closure" plate, that seals off your chimney if you have a chimney liner, can also be made of this board (not to be confused with a "register plate" used with no liner and must be metal).
Surveying the scene
Okay, you have completed your breakout to your builder's opening, ensured a lintel or arch is in place, and maybe fitted your hearth (you can do the hearth before or after the lining of the recess).
This is the sort of picture we should be looking at (with or without hearth):
What do I need?
Tools/items of note required: 115mm angle grinder with diamond-tipped blade. Hammer drill. Cordless drill. Impact driver (not necessary but useful). Cement board. Thunderbolts. Safety glasses. Safety glasses.
Skills level: An easy job for a DIY'er or a tradesman.
Building Control permission? Not required.
Attaching cement boards
A picture is worth a thousand words and so:
Before we go any further: you can fit the side and rear boards before the closure plate (plate that blocks off the chimney) OR you can fit the closure plate first and then the rear and side boards. Why fit closure plate first? Because if you do the sides first then the top plate has to "slide in and sit on top of the side boards" (it is a little wider than the sides) and the hanging liner will be in the way – unless you can easily pull it up out of the way from the top and then all is well. But this is not always easy or possible – if it's a tight fit or a roofer fitted the liner/cowl the week before. If you fit the closure plate prior to the sides then you can fit it by raising it within the recess, allowing the liner and adaptor to slide through the closure plate hole ending up with a pic as seen below).
I will let you make your own mind up. Continue to read this section but also read "THE STOVE FIT>free standing in builder's opening". Then make your mind up. This article continues as if the closure plate is going in last of the boards but bear in mind what said when thinking about your install.
Of the three vertical boards the rear cement board is the one to do first. Hardiebacker cement board is 1.2m x 0.8m so bear this in mind: ideally you want one piece at the back, rather than two, but this is not always possible. If you have to have a join have it down the middle maybe?
Measuring for width is easy – just measure the width at the top and bottom of the recess (in case of slight tapering if the builder created the recess on a Friday) and cut your board accordingly.
The height of the rear board is more critical: you want the top of the rear board to be completely horizontal and 15mm below the height of the lintel. This is because the top edges of these first three boards will provide a shelf, a flange, on which your closure plate will sit (your closure plate will be made of the same board and will slide in to sit on the first three boards).
Whilst looking ahead to this "sliding in" ensure that there is a gap all the way to the back wall – no low hanging bits of mortar or brick etc. to stop the closure plate being slid in.
Why 15mm? Because the Hardiebacker closure plate is 12mm thick and we want as little gap as possible between the top of the board and the bottom of the lintel (we'll be screwing the board up to the lintel shortly).
The two side boards will be exactly the same height as your rear board and also need to be completely spirit-level horizontal along the top edge. These side boards will also need to project forward of the brickwork or stone or block a small amount (small amount = the thickness of any plaster surface less 3-5mm). The reason for this is that you will be attaching "skim bead" to the front edge of the left and right boards and this will stick out 3-5mm. Skim bead is a hard strip that you will plaster to. These front edges may or may not be vertical – they will be the same as the walls!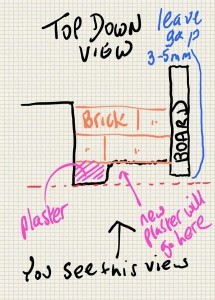 The above is a little hard to explain so I have another scribble. The scribble is a top down view of the left hand side edge of a chimney breast where some of the plaster has been removed from around the recess.
Where it says "new plaster will go here" – this might be bonding/plaster or it might be plasterboard with a skim on top.
Things should become easier to understand as we progress and see a few more pictures.
How do we attach the cement board to the inside walls of the recess? Quite simply we use dri-wall adhesive (available from all good merchants). This is exactly the same process as is used to attach plasterboard to a brick/block/stone wall. Note that you can use Thunderbolts instead of adhesive and we often do if the walls are flat and true.
Before you start you will want to paint the surface of the inside walls of the recess and one side of the cement board with a PVA mix (3 water to 1 PVA). This is very important as without this stage the bond between wall and board may not be good.
Mix dri-wall adhesive with water  so you get a thick consistency (wetter rather than drier is better). Coat the board and the wall with copious amounts of the dri-wall. You do not need to let the PVA dry and if it does dry add another wetting.
NOTE: Feedback suggests that it is better to "smear" the dri-wall rather than have large independent islands of the stuff – thick scattered blobs can cause shrinkage in the dri-wall with this warping the boards. The less air between the board and the wall the better (a fellow stove fitter reckons air pockets is what causes minor cracking of Hardiebacker under extreme heat due to the trapped air expanding).
Leave 12 hours to go off.
You will use a spirit level to check the sheets are vertical and the top edges horizontal. You can use wedges along the bottom if required.
Tip: You will find it easier to attach the rear board first, before measuring and cutting the side boards (otherwise you will be guessing the thickness of your back wall which is not possible to do accurately.
Before we proceed to our "closure plate" (the plate that seals off the chimney) I want to proceed with a "here's one I made earlier". In other words I am going to move forward in time to a point where our closure plate is already fitted. We'll come back to the creating and fitting of the closure plate shortly so forget it for the moment.
The closure plate
I am not going to deal with the closure plate here but will deal with it as part of the stove fit itself.
The continuation of this article is found within the "Stove fit to flexible liner" section of this manual.