Posted by
ltadmin
on Jan 15, 2013 in |
Comments Off

on Hearth for a wood burning stove


Hearth for a wood burning stove
The hearth is the floor on which your stove sits. It is always made from a non-combustible material and is subject to Building regulations (you do not need Building Control permission to fit one but the hearth will be inspected by Building Control when they inspect the overall installation).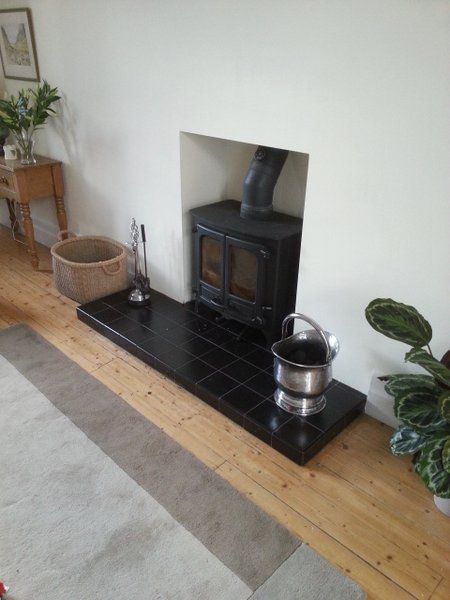 There are two different types of hearth:
The Constructional hearth: a minimum 5″ thick concrete base that makes up the floor of a fireplace recess (usually hidden under a decorative hearth known as a superimposed hearth of anywhere between 1cm and 5cm thickness).
The superimposed hearth: the decorative area above the constructional hearth. Superimposed hearths can be made from many materials: brick, concrete, slate, granite, tile, metal etc. although slate, tile or granite are the most common.
Note that the constructional hearth can be sunk into the floor or raised above the floor or even be part under floor level and part above floor level. Note also that a stove not in a fireplace recess might not need a constructional hearth (hence why you might see a stove sitting on a 12mm glass hearth on top of carpet in a posh stove brochure).
We had a customer recommend this company
and another who wrote:
"I noticed on your website, a customer had recommended a hearth supplier in Inverness and I did contact them for a quote. However, I am at the other end of the UK which meant a hefty carriage charge.
I have since found a local supplier: Kenmart Ltd. Lower Mill, Pottery Road, Bovey Tracey, Newton Abbot, Devon TQ13 9JJ – Tel 01626 833 564. They are very much a trade supplier, no showroom, no sales pitch. But if you know what you want, and are able to provide a simple drawing with dimensions, they can provide competitive quotes for a variety of stone and slate, cut and dressed to meet your needs. They also produce natural paving slabs as a cheaper alternative."
By Julian Patrick