Posted by
Julian Patrick
on Jun 10, 2013 in |
Comments Off

on Hearth and Home Exhibition Show 2013
Have you got a showroom?
Well what a lovely place is Harrogate! A sunny day helps of course and as I was treating my wife to a romantic weekend away ("Am tekin yer t' stove show lass so get sen reddy…") this was all to the good.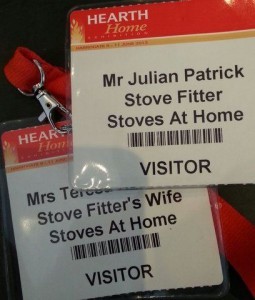 Harrogate is now top shopping destination for my wife (who's excitement in the Bang & Olufsen store almost ended in a £6,500 TV heading home with us because the show jumping horses looked so wonderful and "you can even see the hairs on Clair Balding's upper lip"), followed by a doze at the Hotel then a wonderful meal and wine, at a beautiful Chinese restaurant, topping off Saturday's entertainment.
I have not been to a stove show before so all of this was new to me. The show comprised of three medium-sized halls filled with a wide array of stoves and stove and hearth-related goodies.
So why did I drag myself away from North Wales on a sunny summer weekend to wander amongst a hall-full of hot stoves? Well for me there were two reasons: I am a stove fitter and I need to know what new products are out there, stoves of course but also all the other players: hearth materials, surrounds, beams, lintels, cowls, adaptors, liner, widgets etc. But also I have recently launched The Stove Fitter's Manual – and I want to offer self-installers product that will assist.
So off to the Hearth & Home Exhibition, to look at all the amazing products, to be courted by manufacturers and distributors with their freebie pens and mugs, to order some of this and some of that, to get home and add these wonderful products to the website and make some sales – simples (as the straight-backed little-armed rodents might say).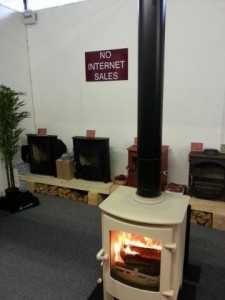 Except it's not that simples. I've known for a while that it's not that simples. It's not that simples because the Internet has happened. The world wide web, the Interweb.
"Can I buy some of your stoves please? My wallet is right here and bursting its seams."
"Are you trade?"
"I think so. I'm a stove fitter. A tradesman."
"Have you got a showroom?"
"Not quite."
"???"
"I have a virtual space. It's all rather lovely. It's open 24/7. Customers can view products from the privacy of their own home, very environmentally friendly and all that – and they don't need to get in their smelly cars."
"Internet then?"
"Yes. Good quality Internet though. BT's finest."
"We can only sell to you if you have a shop."
"Can you define a shop for me?"
"???"
"Well I have a lockup sort of place. If I put a couple of stoves in there and put a little sign up…"
"Well is it a showroom?"
"I can put showroom on the sign".
"Look, as long as you have a shop it's fine".
"Great. Sign me up."
"As long as you are not too close to one of our other shops…"
"???"
"Where are you based?"
"North Wales"
"?????"
"Anyway. If I have a shop. And if I my smoke does not drift anywhere near any of your other shops. I can  buy your stoves?"
"Yes"
"Great. And then I can sell online?"
"Depends…"
"???"
"As long as you don't upset anybody"
"How might I do that?"
"Well the Internet is bad… babble…prices… babble…and it's no good… babble… Ebay… waffle… for the trade… babble… Bill Gate's is the devil… and we don't want people… er… misbehaving…"
"Misbehaving?"
"If they misbehave then we make contact, "have a little word"".
"Is that a metaphor?"
"???"
"You mean you tell them they have to sell at a certain price?"
"Well that would be illegal Sir. But if they misbehave a few times then we would discontinue supply."
"So I could sell stoves on my website as long as I do not misbehave but there is no definition of misbehaving and if I do misbehave a few times then my money would not be welcome?"
"Something like that."
"And your new range you just launched?"
"Showroom only Sir?"
"You mean I can have them in my lockup…er.. showroom but cannot sell them online?"
"That's true."
"If I have a really smart shop, cos there's a place vacant in our village… can that shop have a website? And can I picture your new range on that website?"
"I think so"
"You think so?"
"I'll have to ask my boss".
"Ask him about Twitter, and Pinterest… and can my customer's email me questions… or is that Internet selling? What about a wireless bank transfer? Hmmm…
I think you get the picture. Anyway I think this subject demands an article all on its own. There was one stove manufacturer at the show who told me that he deals only with showrooms and if one of his dealers sold ONE stove "via the Internet" then they would be cut from the list immediately. Other manufacturers appear to be developing different ranges, one range for the Internet and one range showroom only. Do some manufacturers claim that their stoves are not available online when they clearly are?
I can very easily see the problems that the Internet is causing for manufacturers and I am certainly not saying that anything they are doing is right or wrong. I hope that it pans out that both online and showrooms can live side by side. A race to the bottom is in nobody's long term interest.
But to the products that stood out for me:
Product of the show: Timber effect beams by Newman Fireplaces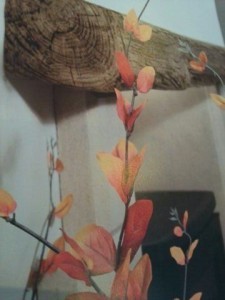 There was one product range at the show that, for me, stood out above all others: range of "timber effect" wooden beams by Newman Fireplaces Ltd.
As a stovefitter I (and customers) get very frustrated that we often cannot fit a wooden beam above a fireplace due to the stringent Building regulations. These regulations state that a beam must be 15″ or 18″ away from the stove's flue pipe (see my article Distance to Combustibles).
Newman Fireplace's beams are made of concrete but look like wood – and I mean REALLY look like wood. In fact they had me completely fooled on their stand as I pointed out to one of the staff that I really liked their beams but that I would not be able to fit them as per their display due to Building Regulations. When she told me that they were concrete I thought she was joking.
As their brochure says: "authentic finish even includes the typical marking you would find in an old beam, including shakes, holes and end grain etc.
Non combustible. No warping over time.Three standard sizes. Made to measure lengths available.
A superb product and one which I nearly missed.
8kw DEFRA stove by Chilli Penguin Stoves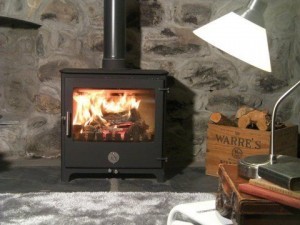 DEFRA approved AND with a 5″ collar. As a stove fitter i really do like DEFRA stoves with 5″ collars – because they can, should the chimney be tight, be attached to a 5″ chimney liner. There are very few stoves above 5 kw that fit the bill and to get an 8kw that one can attach to a 5″ liner (should the need arise) is amazing.
The Chilli Penguin stoves are beautiful indeed (and I'm a tad biased because they are made in Wales where I live). This little beauty is 81% efficient. Height 590mm, Depth 355mm, Width 570mm.
Google "Chilli Penguin Stoves"
Mid Tec Hanging Cowl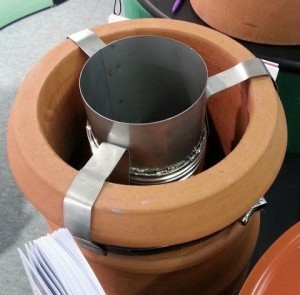 Finally – I have found a hanging cowl where one can add the Micafill/Vermiculite insulation AFTER the liner has been fitted. Simple but brilliant.
The liner hangs from the pot. Vermiculite/Micafill is poured around the liner (the cowl is supplied with a plug to prevent material entering the liner). The rest of the cowl is added afterwards.
You know, good design really does make a fitter's life that much easier (especially when standing on a roof with gusty winds and a tv aerial trying to take your eye out!)
I hope to be adding this to the SFM Shop very shortly.
Glenweave Giant Log Basket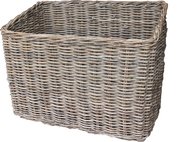 Well they actually call it the Rectangular Natural Jumbo Basket. What will you call yours? I love it.
148cm wide, 90cm deep, 95cm high.
Google "Lows of Dundee".
Valiant Fan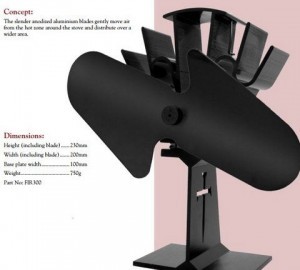 Two-blade Heat Powered Fan. This little beauty maximises the heat circulation around the room.
Height 23cm Width 20.5cm.
Google "Valiant fans".
Warma Fuels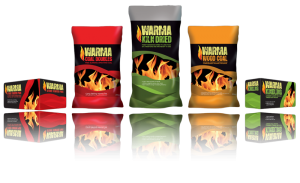 Starter box? 10kg or 25kg kiln dried mini pack?
How about a whopping 350kg of kiln dried wood delivered to your door? Available in the SFM store soon.
Google "Warma Home Fuels".