Posted by
Julian Patrick
on May 5, 2013 in |
Comments Off

on Defra approved stoves what are they and do I need one?

What are DEFRA approved stoves? At the risk of sounding pedantic there is nosuch thing as a DEFRA approved stove. "DEFRA exempt stoves" (the proper terminology) or SE (smoke exempt) are stoves that are cleared to burn specified fuels in smoke control areas, fuels that are usually disallowed".
In our case this means wood (which is disallowed in a smoke control area unless in a "DEFRA stove"). If you see a stove that has SE after its name or the DEFRA logo this essentially means that you can fit this stove in a smoke control area and legally burn wood.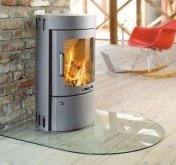 So can you fit a stove, that DEFRA has not tested, in a smoke control area, if you are not going to burn the unauthorised fuel? In other words if you are only going to burn smokeless fuel (an authorised fuel). YES YOU CAN (below is a snippet from the DEFRA website).
I have bought an appliance and now find I am in a smoke control area and it is not exempt what should I do? You could ask the manufacturer or importer if they have any plans to seek exemption. Alternatively replace it with an exempt appliance from the list at Exempt Appliances or continue to use the appliance but only using an authorised fuel. The list of authorised fuels can be found at: Authorised Fuels. 
A HUGE advantage of DEFRA approved stoves is that they can legally be attached to a 5″ chimney liner and wood can be burned (only if the DEFRA approved stove has a 5″ collar and the manufacturer does not insist on a larger diameter). In all other circumstances Building Regs state that a liner must be 6″ minimum (more if stove manufacturer says so) when burning wood. Note that a 5″ liner can be legally fitted to ANY stove, DEFRA certified or not, with a 5″ collar if (a) the manufacturer does not state otherwise and (b) only smokeless fuel is to burned within the stove.
A 5″ liner can be very desirable, or even necessary, if a chimney requires lining but is very narrow or difficult. Even if a 6″ liner is purchased, if it will not fit down the chimney then at least you have the option of buying and fitting a 5″ (with a non-DEFRA stove that option is not available should you wish to burn wood and you may have to sell the stove). Note that there are a few DEFRA stoves above 6kw with a 5″ collar but plenty of 6kw and under (note from Julian 1st Feb 2015: there are more 6-8kw DEFRA stoves arriving on the market nowadays).
The difference between a non-DEFRA approved stove and a DEFRA approved stove is very little. In fact modern stoves can, in some examples, be modified to become DEFRA approved with a kit (supplied by the stove manufacturer). The kit makes changes to the stove's air vents, changing the design so that the stove cannot be fully closed down to full slumber. A slumbering stove will more likely clog up a flue with soot and tar so is not a good thing. A DEFRA approved stove will burn all the time and will not slumber and therefore is far less likely to send part burned combustibles (soot etc.) skyward. Good for the environment and less likely to clog flues (hence the 5″ being allowed as the narrower pipe far less likely to clog with soot than with a non-DEFRA approved stove).
Keep it simple: A DEFRA approved stove can be used in a Smoke Control Area to  burn wood whereas a non DEFRA stove cannot burn wood in these areas.
See Smoke Control Areas.
Also read: Can I fit a 5″ chimney liner?
By Julian Patrick