Posted by
Julian Patrick
on May 3, 2013 in |
Comments Off

on Duraflue chimney liner and adaptors and cowls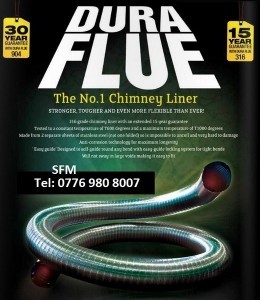 STOP PRESS: Duraflue a finalist for Product of the Show at the Hearth and Home Show 2013.
QUOTE from one of our larger competitors Stoves Online: "We sell a good quality liner that does the job very well but we do, occasionally, get requests for a liner that needs to go into particularly demanding situations and for that we've always recommended DuraFlue".
NO CHEAP FITTINGS: Hanging cowls and adaptors sold on this site are sold by the Duraflue people: NO external spot welds, NO folds, NO weak spots and ONLY high grade stainless steel used. I have been there – I have purchased other cowls in the past and have multiple failures between one and two years later. It is not worth it!
I'm thinking of buying a liner but what else do I need?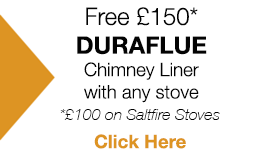 As a stove fitter I have to supply quality product that does not fail during fitting or within a few years (burn through essentially). With this in mind Duraflue stainless chimney liner is, without doubt, my favourite liner.
Why? Because it is manufactured completely differently to other liners (the two stainless layers, inner and outer, are heavy duty and, due to an excellent design, do not separate under any circumstances).
Duraflue is very, very tough. I have not managed to damage it during fitting. My trade body have recommended this liner to customers who have had cheap liners fail after a very short period of time. When Duraflue bends around tight corners inside a chimney, the inside of the chimney liner stays smooth whereas with cheaper "under-£20-a-metre" brands (well known brands) the two thicknesses often (always) come apart, this creating sharp ledges that slows gases and cause the sweep's brushes to catch. The liner can also fail completely during fitting (two layers come completely apart and liner unravels).
Read more about inferior chimney liner here

It really is not worth choosing liner from the companies selling liner online at under £20 a metre. Like anything in life you get what you pay for. 
Having a chimney liner come apart in a chimney is not at all pleasant and Mr cheapestliner.com is not going to assist you to get a damaged liner out of your chimney. Nothing I have seen whilst stove fitting or at trade shows etc. comes close to Duraflue.
So confident am I that you will fit this liner without damaging your chimney that I make this AMAZING GUARANTEE: Damage this liner during an install (tear it, put a hole in it, damage it so it is not fit-for-purpose) and I'll share the pain 50/50 by refunding you half the cost*
Another advantage of this liner is that you cannot ever fit it upside down. That's right, either way works.
I first heard about Dura Flue from a fellow stove fitter, Alan Simon of Cottage Stoves Wirral who was so impressed with it that he pestered me for ages to try it (ring him and ask him, you can find him using Google). Too busy as usual I didn't get round to it and he actually met me on a job and gave me a free 10 metre roll to try out (well he owed me £50 actually and seemed a fair deal to me!). Alan, I thank you. You were right as usual.
Find all liner in The Stove Fitter's Warehouse
Need a liner and need to know what else to buy?
*Refund if damaged guarantee. Damaged area (one metre) must be cut out and despatched to SFM for confirmation prior to refund.
Below is a test using Duraflue liner
Chimney Wikipedia (not liners): http://en.wikipedia.org/wiki/Chimney
Julian