Posted by
Julian Patrick
on Jun 6, 2013 in |
Comments Off

on NEWS by Julian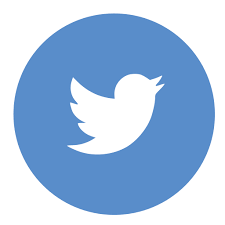 NEWS HAS MOVED TO OUR TWITTER PAGE
FOR ALL THE LATEST NEWS PLEASE CLICK THE TWITTER LOGO
Sunday 4th January 2015
Happy New Year! Just back from a wonderfully relaxing Christmas break in Cornwall and looking forward to getting back into the fray tomorrow morning.
My New Year resolutions are:
1. To work less than in 2014
2. To get all the jobs done in the to do list above (before end February)
3. To get fit (my new Tomtom running watch might help). I actually lost a pound in weight over Christmas but mainly because I got the winter vomiting bug for three days (every cloud has a silver lining)!
4. To drink less booze
So all the usual then 😉
Lots of plans for Stove Fitter's Manual and Warehouse planned for 2015 (following a very successful 2014). When I launched the Manual (April 2013) it was very much launched as a "minimum viable product" – in other words cheap and cheerful with minimal financial investment (just a lot of time hunched over the laptop!). Stove Fitter's Warehouse was launched in the same vein – get it up and running as quickly as possible and worry about crossing the t's and dotting the i's later. Such has been the success of the site that I have been pretty much seven days a week firefighting ever since – emails, phone calls, orders, customer service, accounts etc. and so on. No complaints of course – I am extremely happy that my idea to assist self installers to get their stoves up and running appears to have been one worth following and that I can earn a living from it 🙂
So 2015 will start with the aforementioned crossing of t's and dotting of i's. I am also bringing in extra admin help so that I can spend more time on the stuff that helps installers: the articles, the reviews, more products and more. I get a lot of great feedback from site visitors but I also know where the weak points are and have dozens of improvements lined up.
To everybody who used Stove Fitter's during 2014: Happy New Year! To those who purchased from Stove Fitter's Warehouse: a great big thank you (and a Happy New Year)!
Friday 7th November
Always good to start the day with a compliment 🙂
"Congratulations on the manual. I'm an extreme DIY and am just putting the finishing touches to a self build house and just wanted to say that your Stove Fitters Manual is exceptional and probably the best information source on a particular subject that I've ever come across". Peter
Thursday 25th September
Check out the new log splitter!
Thursday 11th September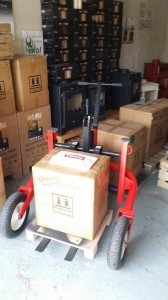 Got a new truck. No more bad back for me! Also got a Macbook Pro – a revelation after years of PC's. No going back now.
It is very, very busy despite our Indian summer. Emails tend to come in almost as fast as I answer them and the phone goes into overdrive at various times of the day (top tip: don't have two mobiles and a landline as they invariably all go off at the same time).
Ivar by DG Fires is selling well as is Monterrey 5 & 7, Silverdale 5, Stockton 5, Charnwood C4 and C5, Hobbit. Saltfire and Ekol stoves are red hot at the moment. I have a Newton cream enamel being despatched today (very nice stove and my most pinned stove on Pinterest).
A big thank you to all my customers and it's great to hear all of your stove-fitting stories and see your pictures. I must get my act together and start adding some of these to the site (it is very difficult finding time amongst the customer service to find time to improve the site but I do add little snippets and articles whenever i can grab a spare moment).
Roll on the cold weather… (I know… shut up Julian!)
Friday 8th August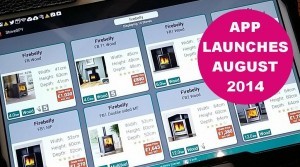 StoveSPY has launched in the Google Play store (Apple version launches early September). Search for StoveSPY (one word) to find it in the store.
StoveSPY "find your perfect stove", is an app, a searchable database of over 300 solid fuel stoves (not boiler stoves at present), from over 30 leading brands, with each stove listing over 40 informational fields.
StoveSPY can be used to swiftly filter its database to eliminate stoves that do not fit requirements. For potential stove buyers this can save a lot of laborious web research.
Wednesday 22nd July
Information from HETAS: A recent SIA survey of stove users has revealed that although most stoves sold are multifuel nearly 80% of people burn only wood on their stove. Over 50% of stoves installed replace an existing room heater with an average efficiency of 30%. The appliance most generally replaced is a decorative gas fire. The survey also indicates that dry stoves are used for nearly 5 hours per day and boiler stoves 9 hours on an average of 87 days a year.
Tuesday 22nd July
Well it's not exactly the weather for woodburners! But it is the time for fitting them (nice weather makes everything easier). Below are the Top Ten sellers from April 1st to July 21st…
| | |
| --- | --- |
| 1. Ekol | Crystal 5 |
| 2. Ekol | Crystal 8 |
| 3. Saltfire | St2 |
| 4. Saltfire | ST1 |
| 5. Ekol | Clarity 5 |
| 6. Charnwood | C4 |
| 7. Salamander | Hobbitt 4 |
| 8. Ekol | Clarity 8 |
| 9. Trianco | Newton 5 |
| 10. Stovax | Stockton 5 |
Wednesday 9th June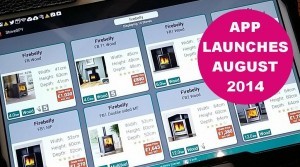 StoveSPY is a new app designed by app developers Cobalt Techno and is aimed at stove buyers, retailers and fitters (FREE to first 100 trade customers who answer a few questions about their favourite stoves). Over 300 stoves will be in the app at launch in August, in a fully searchable database. The app asks you ten or so questions and from this will provide a list of suitable stoves. You can even add your recess size as the app knows all of the manufacturer's stated clearances to non-combustibles. StoveSPY official site launches August but find out more in advance here.
Thursday 19th May
Its is always nice to get a compliment and I go two this morning 🙂
"Hello Julian,  I am 66 years old, always loved D I Y projects. Never fitted a log burning stove before, but with the aid of your web site, which is so comprhensive, easy to read, with a nice, personal touch to it, it made the job do-able.  I did it all myself, except the heavy bits and getting the flu liner in, but I have to stress that without your web site I don't think I would have tackled it.  The building inspector passed it fit for use yesterday, so I'm going to celebrate this weekend with a bottle of bubbly.  Many Thanks   —   William!"
"I don't do this often but I need to say what an informative site devoid of bullshit. I am at the early stages yet but I'm seriously considering an Ekol Crystal 12. However, whatever I decide, I shall purchase it from you. Many thanks, Ian"
Wednesday 11th May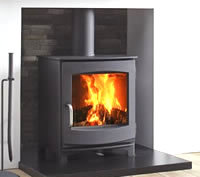 Three new brands signed up at the Hearth and Home Show: Aga, DG Fires (the very desirable "Ivar" pictured left) and Hamlet. Aga and DG have some very nice new stoves for the coming season. More info coming soon…
Saturday 7th May
Off to the Hearth and Home Show in Harrogate tomorrow morning so up early!
Friday 25th April
I can buy liner at £7 a metre. That is crazy. I could sell it to you at £12 a metre and still make a good profit. So why do I choose to pay a lot more for my liner and sell it at £24+ a metre? Because I don't want you ringing me up in a few years time to say it has burnt through/rotted/fallen apart. I want to sleep at night – so I only sell Duraflue which I know and trust and is of a very high quality.
Friday 25th April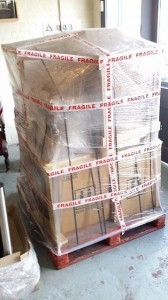 Lots of stoves delivered to my shop The Wood Stove Hut yesterday. Probably should not have unpacked them all by myself and arranged them in the shop. Good job my wife's an Osteopath 🙂
This delivery was from Ekol. One Crystal 5 and half a dozen from the new Clarity range.
There are now 25 stoves in the Wood Stove Hut.
Tuesday 22nd April
Saltfire Stoves now available (£399 for a DEFRA-exempt stove with an amazing efficiency)
Sunday 20th April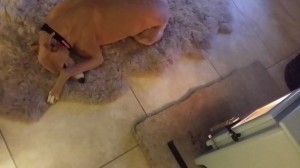 Reg, our Lurcher, really does love our Trianco stove.
Friday 21 March
Firebelly stoves now available

Friday 14 March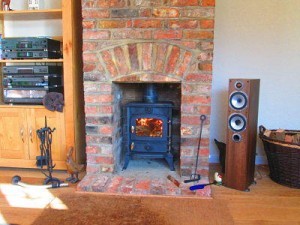 Another completed install (signed off by Building Control yesterday). Well done Lee, always good to see some exposed brick work. Classic example of an arch.

Saturday 8 March
The SIA estimates that wood burning stoves could account for 10% of the UK Government's carbon reduction targets by 2020; with the potential to produce 25% of the government's domestic renewable heat energy target by 2020. Full story here
Monday 10 February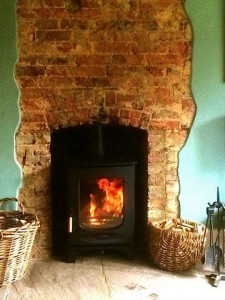 Look at what Phil from Essex did! Hey Phil that's a really nice job and very well done. Keep sending those pictures in everybody as it motivates me when I'm bashing my way through dozens of emails 😉
Saturday 11 January
Ed Mead, a director at London-based estate agency Douglas & Gordon, says: 'There is no doubt a real fireplace adds a wow-factor when selling a home and it can be a focal point for any room. If you spend £3,000 to install a quality working fire or a stylish modern woodburner it may sound a lot of money but it can add as much as £10,000 to the value of a property. If the average property is worth about £200,000 then it means you are increasing the value of a home by 5 per cent.'
Read more here
Monday 30 December
Useful post from the forum:
I would just like to point out you don`t have to use the council buildings control officer. I asked my brother, who works for the local council and who from time to time has to get involved with building regs. He said he didn't use the council buildings control, he used various private sector companys, didn`t say why, cost and experience i guess.
He gave me the phone number for Assent Building Control Ltd. A national company with a local office. Spoke to a guy there, he said they do a lot of stove installations. Cost £150 including VAT. http://www.assentbc.co.uk/
Sunday 8 December
The questions that keep me awake at night…. (well they might if I wasn't so knackered)…
I just created a post asking questions of other Hetas engineers or Building Control inspectors. These are the questions where I have received conflicting answers or I have struggled to discover a definitive rule or standard…
Saturday 23 November
Fitted a Cubic 5 yesterday (I always cheer when a 6″ liner slips nicely down a chimney). In the shop today with an 8kw stove roaring away. Finally got to the end of the emails (well 5 today left for Monday). Life's hectic but good.
Tuesday 12 November
Okay I am guilty. Guilty as charged. I have added just one news item in the last six weeks. So is there no news to report?
We all use the phrase "I just have not had a minute" but I honestly feel I can say this without much exaggerating. When I launched the site in the summer (May 1st) I expected a gradual build up of traffic over a year or two – plenty of time to add more stoves, more articles etc. I was ready for the disappointment of the phone not ringing, the email in tray being empty (I have been involved in business start ups before and it can be a hard struggle to get going). After all, a friend of mine stated: "not many people will want to fit their own stove you know".
Hmmmm… how wrong I was (and he was). Thanks to all of you the first six months of The Stove Fitter's Manual has been, let's say, a tad hectic. For me it is seven days a week and 6am until 9am at night. Apparently it is not good business practice to tell everybody how many visitors one has to one's website but let's just say on some days I check the figure and my eyes pop out on stalks.
Thank you for making the first six months a massive success.
Friday 1st November
http://www.thedailymash.co.uk/news/society/wood-burning-stove-brings-authenticity-to-middle-class-mans-life-2013110180842
Saturday 28 September
Duraflue is a finalist at The Hearth and Home Show 2013
Friday 26 September
27 days since my last NEWS article – that's so lazy! seriously though things have been very, very hectic. The shop is open and already doing well. Mondays and Tuesdays are quiet (so I can just about get my paperwork done!) but Saturdays are a bit manic.
Lots of phone calls about building control inspectors but you all seem to be coping 🙂
New postage policy: I am now paying extra to make sure all customer's orders for liner and materials are with the customer before 10.30am so people do not have to wait in all day for the lorry to arrive. I am contributing to postage to the tune of approx. 50%. Spend up to £500 and postage is £20 and spend over £500 (I assume there is a stove involved) and the cost is £40.
Friday 30 August
The lovely little Hobbit has been added to the Stove Fitter's Store!
Friday 23 August
Mon/Tues/Wed fitted a Jotul 100 (full breakout/hearth/liner etc.). Thursday and Friday getting The Wood Stove Hut ready for opening next week. Hopefully have a new apprentice starting soon 🙂 Monday saw record visitor numbers to the site (always the most visitors on a Monday ?).
Sunday 19th August
The majority of my customers so far have been good sorts. They email, they phone, they email again, they phone again, and email, and email, and email…
So many questions they have. Of course they do and I am very happy to answer (after all I set up the site to help people). I've chatted to people whilst sitting on a chimney stack, whilst trying to watch Top of The Lake, at 7am and at 9pm and whilst shopping in Tesco for dog food and Chardonnay.
But they place an order for stove and/or materials. As you can imagine that makes me feel happy and the world's a happy place.
Not all of them order something of course. Some probably put the project on hold, or lose their memory, or take my free advice and then source cheaper Ebay equipment. Who knows what happens. It's a free country. That's life and all that.
Then again some people do push it a bit. I had a guy the other day contact me following a multi-day lengthy back and forth email conversation in which I quoted for various stoves and all the relevant materials say:
"I have found the stove you mentioned at <very low price from local stove shop> and if you want the deal you should match the very low price. I want to buy from you so I can get your free 6m chimney liner".
Hmmm…
"DO YOU WANT ME TO BRING FREE WOOD AND LIGHT THE FRIGGIN' THING FOR YOU AS WELL?!"
…
…
I feel better now.
Sunday 18th August
Another weekend flown by with me sitting at the computer. I'm not complaining, my choice, and it's very enjoyable. There's a lot of work involved starting something new, often more work than one might first envisage. I created the Stove Fitter's Manual (launched May 1st this year)  in my spare time from stove fitting over the last few years. There's a load more I want to add and you'll see this appear over coming months and years. I've also just launched the online store "The Stove Fitter's Manual" – that has taken the last two weekends and a couple of evenings (getting faster now I have learned the software). If that's not enough I'm refurbishing an old property that will be my new HQ: The Wood Stove Hut.
Starting from now my weekly work plan is changing. Mon/Tues/Wed stove fitting. Thurs/Fri/Sat running in the Wood Stove Hut. I have a potential "apprentice" on a week's work experience this week. I think I'll need him.
Here's to a busy winter for stove fitter's and stores everywhere.
Sunday 11th August
I am also opening my first bricks n mortar store. Lots of sanding and scrubbing and painting. Check out The Wood Stove Hut.
Sunday 11th August
Finally got the online store up and running! Check it out. Feedback appreciated.
Friday 9th August
I have officially labelled today "Frantic Friday". Luckily I was on an office day as the phone was red hot all day! Many stoves and liners out the door. Wow!
Tuesday 6 August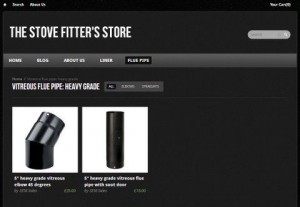 Visitor numbers highest ever yesterday, thank you all for spending time on the site. I was working hard on the online store over the weekend and it seems to be coming together. I chose Shopify as the platform and the weekend was a learning curve getting to grips with the software.
Lots of new installations happening including one in the Shetland Islands!
Got the number one Google slot for my main keyword "how to fit a wood burning stove" hooray!
Other news I cannot talk about yet but will do soon.
Saturday 27 July
Ekol Stoves now available from SFM
Tuesday 9 July
Online store coming soon – can't wait!
Monday 8 July
Always good to get feedback:
"Just wanted to say a big thank you – to you for all the information on your website. You've really helped helped me get to grips with what I needed, and the processes involved. You've even stopped me being sucked in by a few installers"
Paul
Sunday 30 June 2013
Well done J Prosser, Midlands – fitting your own Firefox 8 and saving yourself a small fortune.
Sunday 23 June 2013
Highest ever number of visitors to the site today. I am very pleased with the figures considering only a few weeks in and it is the middle of summer. I appear do be doing well in the Google searches, possibly helped by the length of time people are staying at the site assisting Google to like me? My wife says my mug shot is probably putting a fair few people off and I should get something professional done (airbrush anyone?). Have started the first steps in getting an Ecommerce store on the go although there is a fair bit of work to do. Other interesting things happening behind the scenes… watch this space.
Wednesday 19th June 2013
I enjoy feedback as it keeps me motivated…
I am currently renovating a Victorian house near Huntingdon (Cambs) and we plan to put it a wood burner.  I have some guys working with me that are good but can't know everything.  Your site has helped so much and allowed me to rethink the work we are doing. John.
Wednesday 19th June 2013
Good luck to self-installers Carl from Thetford, John from Huntingdon, Mark with his Little Wenlock and Tom the builder. Nick C thanks for the pictures (with your permission I'll show them on the site shortly).
Wednesday 19th June 2013
Some pleasing feedback from a Cubic 5kw customer…
Customer feedback 19 June 2013: hi, just to let you know, my order turned up today, everything was
there and im really happy with the stove, i was a bit dubious to buy online but it turned out fine and its a bargain, many thanks, C Smith, Thetford.
Monday 10th June 2013
Just back from a lovely weekend in Harrogate for the Hearth and Home Show. My wife thoroughly enjoyed herself…
Thursday 6th June 2013
A big thumbs up to Nick C from Kent, Henry C from County Durham and Rod from Derby. All are self installing in this glorious hot weather. It will be worth it when the winter arrives guys! Let's hope I can persuade these guys to send some pictures so we can share their experience. Nick was quoted over £4,000 from a stove fitter (without the stove!) and decided he should do it himself (for the cost of a stove plus a few hundred on materials!).
May 1st 2013
Site launched today!