Posted by
Julian Patrick
on Mar 6, 2014 in |
Comments Off

on How much liner in metres should I order?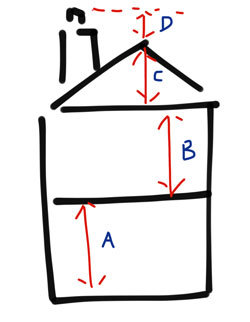 Measure from the floor of the room where the stove will sit to the top of the chimney pot. This is more than you need but provides extra for any bends etc.
To work out this measurement add the following together (assumes two floors):
Height of downstairs room (usually 2.5m or 3m)
+
Height of upstairs room (usually same as downstairs)
+
Height of loft to apex of roof (e.g. 2m)
+
Height of chimney stack above apex (e.g. 1m)
Also add the thickness of the two floors. I use a figure of 0.5m per floor so in a standard two storey property this is an extra metre. A typical post war council house is 8-9 metres.
The above will provide more liner than you need due to you measuring from the floor. However it is a good idea to have extra due to chimney bends. Nothing worse than being short!