Posted by
Julian Patrick
on Jun 22, 2014 in |
Comments Off

on Hillandale Monterrey 5 review

Broseley is a major player in the UK stove market and, until recently with ts new Evolution range, is particularly well known for large cast-iron boiler stoves.
The Broseley Hillandale Monterrey 5KW ultifuel £650-£700 price guide is another cas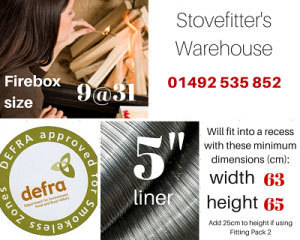 t-iron stove and is very heavy at 102kg and so feels solid and wellbuilt.
Quality is good.
Contemporary or traditional? This is one of those stoves with a foot (or two feet) in both the traditional and contemporary camps and I believe that the Monterrey 5 is at home in either environment.
Both air controls are smooth and have plenty of movement. Decent 76% efficiency rating and can burn wood in a smoke control area
This is the same stove that B&Q are selling – they have rebranded it as the Ohio 5kw.
The firebox is of a very good size and will take a 31cm log. Unlike the Aga the Broseley has no internal firebricks, relying instead on a second layer of metal with an air gap between the two layers. I like this because firebricks can crack and this is one thing less to worry about.