Posted by
Julian Patrick
on May 20, 2013 in |
Comments Off

on Fluecube chimney cowl
Flue Cube Chimney Cowl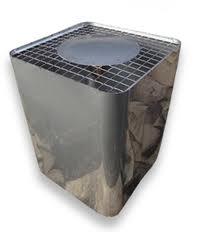 Heating your home while reducing your fuel bill is one of the key features of the FlueCube Chimney Cowl according to the designer. Which means you save money and help the environment.
Both old and new wood burners will greatly benefit having the FlueCube chimney cowl, producing less soot and smoke, while burning hotter and using less wood.
Google "Fluecube"
Find it hard to believe? Here's some testimonials:
"Thank you very much for installing the cowl on my chimney. I have now been using the woodburner with the cowl fitted for about 3 months.
1 The fire lights and draws much quicker than previously, particularly on cold windless days.
2 I used to use coal as a base in order to get a hotter fire and draw but now find this unnecessary.
3 The woodburner seems to burn hotter and appears to burn longer for the same amount of wood. A small but financial miracle!
I must say we are both delighted with cowl and it does not look unsightly or out of place on our period property chimney stack.
Thank you very much for the cowl and I wish you success with your product"
Keith Palmer
""Having removed the seized up, so-called spinning cowl and replaced it with FlueCube we have notice there is less smoke, less down draft, burns cleaner and it now copes with wet and blustery weather, unlike the previous cowl when the house would have been smoked out! Excellent piece of kit.Thank you. "
Ian & Caroline Russell
"Ok so I purchased a flue cube at NACS and couldnt wait to check it out I have a brick built barrel vault bread oven which I built this year,decided to have a play with the flue cube ……
Time to pizza temp -normally 2hrs 30, Flue cube 1hr 10
Fuel used to get to cooking temp – normally 2.5 pallets -flue cube 1.5pallets
time to smoke cessation- normal 45 minutes with hair dryer on through out
-flue cube 15 minutes with 5 minutes of hairdryer
conclusion: I bought this to go on my old baalfoss stove looks like I am gonna have to buy another one as this ones staying on my oven!!
"
Rory NACS
"It does exactly what it says on the tin. In fact it worked even better then I'd expected when I installed it for my Scan Wood Burning Stove. "
Nik Antcliffe Old Flames of Beverley
"Dear Sir,
Following advice from Mr. D. Higgins regarding problems with atmospheric conditions in the Angiddy Valley, Tintern, Monmouthshire I have recently purchased a new wood burning stove and installed as the manufactures instructions, chimney lined and insulated and fitted with bird guard on the top of the chimney. However, on lighting the said stove I was confronted with a room full of smoke as no draw was happening on the chimney, most dismayed at the situation I spoke to David Higgins who supplied me with a Flue Cube, I am delighted to say that since this have been fitted it makes no difference to what is happening in the valley outside, my house inside is free of smoke. I find that this helps greatly to the workings of my wood burner. If the weather is in the right direction I can close the damper and have moderate burning. I am sir, delighted with the performance of your cowl and would recommend this product to anyone with a wood burning stove.
"
T.Bristow.
"From Des Walker Chimney sweeps, Bristol.
We had customer with a new wood burning stove that was suffering from a poor draw and constantly blackening doors which, as the stove had large all surrounding glass windows was problematical for the owner.
We tried a number of the usual remedies to no avail and then decided to try the flue cube, somewhat sceptically I have to admit.
The fitting of the cube was fairly involved but the results have been very surprising for us: more heat generated, significantly improved draw, easier to light, less ash and a near total eradication of the door blackening.
We would certainly recommend this cowl if faced with this type of issue in the future.
"
Bruce Ballagher
"Had fire 7 years leaked into the house, the manufacturer pulled the fire apart but FlueCube solved the problem.Thank you"
On Twitter
"…this will be a really good option to offer customers who have a low flue draught or problems with condensation in flues."
James Price Green Man Stoves Stroud
"The main problem my dad was having with his Tiger stove was the smoke it was producing. The stove is in a single storey extension with flat roof and the neighbour was complaining the smoke was blowing into her kitchen! Even using wood that was purchased as "dry" it was smoking and also it didnt seem to be drawing properly and smoke was backing up through the vents into the room. As soon as the Cube was fitted we lit the stove to see if it had resolved any of the problems. It took about 4-5 minutes for the stove to warm up and then the smoke just vanished leaving only a heat shimmer visible..The smoke hasnt come back into the room either so hopefully this problem has stopped too.. My dad is more than happy with the cube and would happily recommend it/you to anyone"
"
Jill Taylor East Yorkshire
"Hi Ashley
You may remember we spoke by phone on 2/10/12 when you kindly offered to give me a Flue Cube so it could be trialled on a Tortoise firebox open fireplace.
Gary Evans installed it earlier this week and I'm pleased to say it has been successful.
We have an external redbrick chimney built around 1950/55. After fitting the firebox, from Ashtead Fireplaces, we were unable to light a fire without small puffs of smoke coming into the room every 30-60 seconds. It drew for 90-95% of the time but the smoke coming in made it unusable. Gary first thought it was a bird's nest and swept the chimney but found nothing.
After fitting the FlueCube, there were a few puffs of smoke at the first lighting for a couple of minutes but it soon started drawing without a problem. The second time of lighting the fire, there was no problem at all and I've even been able to close the Tortoise damper without causing the room to fill with smoke.
There was no real explanation before fitting the Flue Cube as to why it puffed smoke occasionally – theories being external downdrafts, a nearby tree, the nearby sky dish, etc. But the Flue Cube does appear to have made the difference from a marginally working chimney into a properly working one.
I hope these results are useful to you and thank you very much for the cube.
Kind regards
Chris Barlow
"
Chris Barlow
"Hi Ashley,
As you no the Fluecube was fitted Tuesday and good ole mother nature has obliged by throwing a mix of weather at us ever since! We've had sleet, snow, heavy rain and today it's rather blustery not gale force but it would have made me think twice about lighting the fire with the previous cowl on there.
The first 2 noticeable differences since it was fitted is that there is no longer a draft coming from the fireplace into the room which I always had before and secondly on wet days you could always smell a damp sootiness in the room which could be quite strong and unpleasant now that has gone too! Brilliant.
The chimney sweep was curious to see how it performed so once fitted we lit the fire which hadn't been lit for well over a week. The day was cold, dry & bright with a gentle breeze normally I would get smoke blow back until the chimney had warmed up and flames were roaring but this time the draw was instant, way better than ever before. I was obviously impressed as was the chimney sweep after I explained how it used to be, he said it was an excellent draw and wants to be kept updated on it's performance as he thinks it would be good for some of his customers so I will be emailing him too.
Today I couldn't wait to try it as it's been quite windy and as I said before I probably would not have the lit the fire with the old cowl as I would have been smoked out! Well not today once again the draw was immediate it was like I was watching tennis as my head twitched from watching the wind outside back to how the fire was performing and it was again absolutely fine I am thrilled to bits it really does seem to be making a noticeable difference.
I will keep you informed of its performance in varying weather conditions especially when we get the really high winds. For now though I think it's performance is just brilliant and would not hesitate to recommend this to anyone suffering issues with their open log fire and would happily speak to anyone to confirm this is a genuine testimonial regarding a test that is so far proving successful.
"
Alison Collick
"..My own experience of the flue cubes have been hugely positive and they are a super piece of kit for problematic chimneys and I have experience of many different cowls and these are in another league.
Kind Regards
"
James Gilbert
"trust me its amazing"
(See full review at www.unitedchimneysweeps.co.uk "
Craig Foster NACS member
"Just fitted my first FlueCube – Single story extension, twin wall 8" above a flat roof, house directly behind with high wall, front of the extension over looking an estuary. Customer has a wood burner his previous cowls have been, anti downdraft then spinning then box, all without success! After FlueCube installation, lit straight away, stove burnt clearly and no back draft. I am impressed and my customer is very happy"
"
Steve Shrubb Invicta Chimney Sweeps GMS member.
"Very happy with mine, Ive had to burn wetter wood than I wanted this season. The fluecube seems to get the exhaust up and away better. Last year our smoke drifted down and swirled around alot. So no worries about the neighbors. Plus I reckon you do get a better burn and airflow. Hard to prove without taking on and off and doing it in different weather conditions. I'd like to know more experiences, after all a collective effort will bring about better product development and usage."
Goaty
""A customer of ours had a complaint, from a neighbour, of smoke from the chimney causing a nuisance. We installed the Flue Cube and the issue was, well, no longer an issue. Problem solved and both parties happy. Great product". "
D Bucknall, Warm Knights Ltd, Worcestershire
"Very good results thus far the client is very happy with the improved burning and less down draft.
Many thanks for your help ,i look forward to fitting more cubes if it makes all my clients this happy !
"
Peter Hatt, Complete Chimney Services.
"After installing a stove with a flue liner, the customer wasn't happy with the look of the stove so quickly paid me to install another with the same output.
It was a ( new off the line direct air feed type of stove ), every time the door was opened when lit smoke would spill out into the room.
The manufacturer acknowledged there was an issue with this stove and even after the baffle was reduced twice the stove was still not functioning adequately for me to sign it off. At this point the customer's house smelt like a bonfire so he was ready to remove it and put his old stove back in.
As a last resort we tried a Flue Cube, with instant results the stove pulled correctly even with the door open and the glass stayed clean. Within two weeks the customer's house smelt fresh again.
I will definitely be using the cowl again in the future.
"
Andy McKane Master Chimney Sweep HETAS installer
""After installing a FlueCube we have noticed our wood consumption as gone down considerably
And it looks great – very state of the art –are we trend setters?"
"
Sian Hunter.
"Just a brief note to say we had a FlueCube fitted. It has helped the fire start and draw much better.
It has also stopped the rain coming down the chimney.
"
Rosie Warltier
""My customer complained of the noise her chimney made in high winds. We tried a number of different cowls to overcome this noise issue to no avail.
We then fitted the FlueCube and the problem is now solved" "
Martin Tradewell. The Dales Sweep"