Posted by
Julian Patrick
on May 22, 2017 in |
Comments Off

on Fast and easy route to a good looking fireplace
I am presently fitting my own stove in our family holiday cottage in Cornwall (May 2017) and am aiming for a simple yet effective install (it's Cornwall and I want to go surfing!). Jokes aside I have seen some stunning looking fireplaces that have taken very little effort. Also it might all be undone next year when the builders arrive.
Read on if you want to save some time and make life a little easier…
Let me show you as I go along in my project…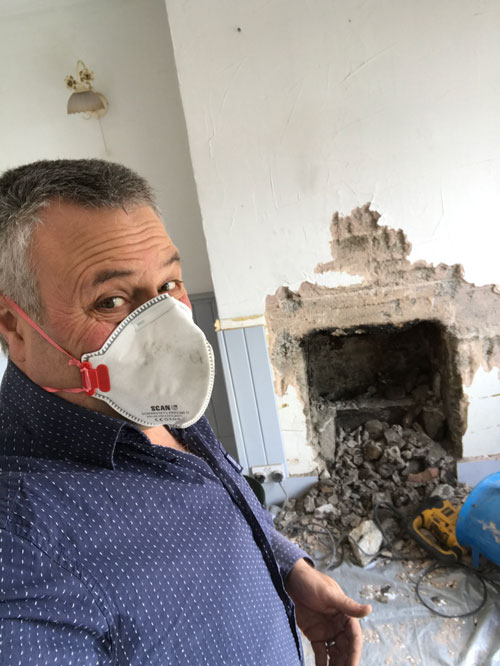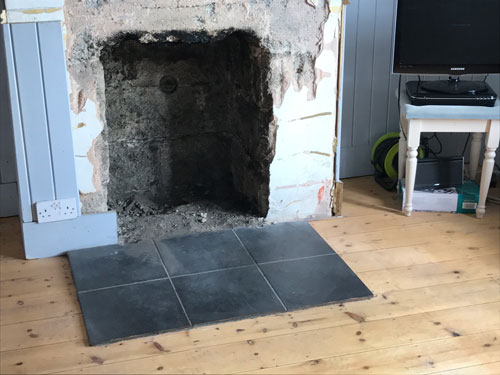 That was about 4 hours work.
I could have been out surfing.
So to my cunning plan…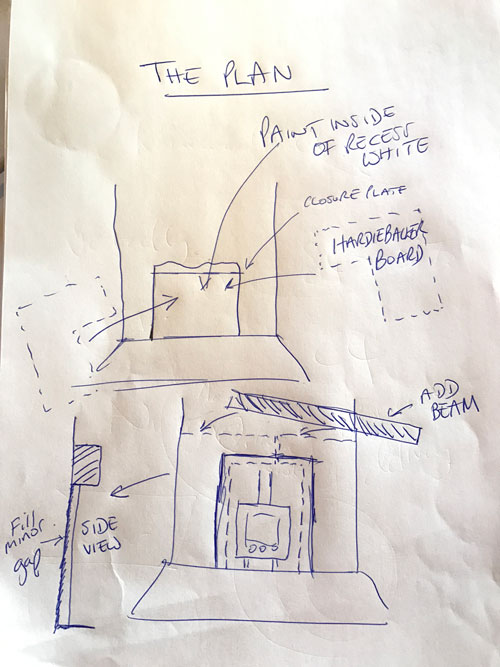 Here's the secret: paint any brick/stone/breeze block etc. in a few coats of white emulsion (or any colour)  and it looks great! You only see it through the gaps between the stove and the Hardiebacker anyway (although it does look good – try it!).
Cut the Hardiebacker opening so it overlaps the opening on the three sides and you hide the rough edges of the breakout – the Hardiebacker can be a perfectly sharp and smooth edged rectangle.
There is one join (top, middle) but make this flush and you can fill the tiny gap using a credit card and sone Decorator's Caulking.
You can just fill the gap along the top (so end up with a small step) or hide the step with a wooden beam or small shelf. The sides – fill the gap with Decorator's Caulking again.
You can paint Hardiebacker with any standard room paint (it has a textured side and a smooth side).
I'll add more pics as I complete this project during May/June (I am writing this 22nd May).
Here is a pic from outside: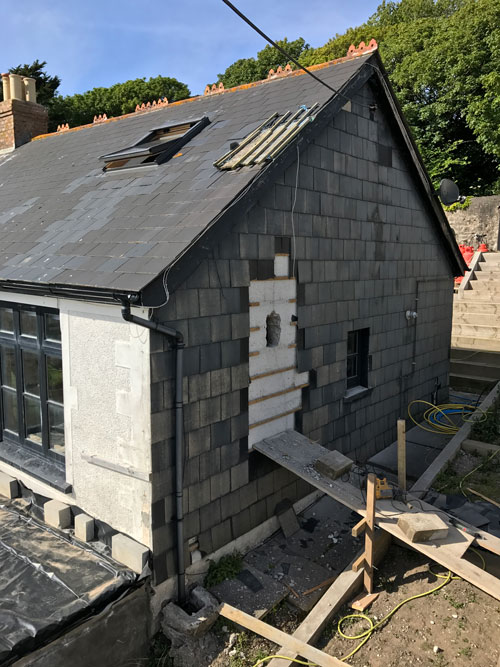 Because I cannot use the chimney all the way to the top (extension going on front) I am taking the flue out of the gable end part way up the chimney. So stove>vitreous pipe 50cm>adaptor>a metre of liner>twin wall the rest of the way.
Back soon…