Posted by
Julian Patrick
on Jan 8, 2013 in |
Comments Off

on Choosing a wood burning or multifuel stove
Wood, Multifuel, Solid Fuel… Help!
Wood burning stove: a term often used to cover all appliances that burn wood/smokeless fuel/coal.
Wood burning only stove: means that you can only burn wood. This is the most environmentally sound option as wood is a renewable source of energy.
Multifuel stove: means that you can burn smokeless fuel AND wood (and coal but we don't speak too much of it because it is sooty, it clogs up liners with soot and it is bad for the environment).
Solid fuel: "a cover all" term for wood and smokeless fuel/coal.
Some "wood burning only stoves" can be converted to multifuel stoves with an addition. The addition is just a grate: smokeless fuel likes air from below (hence smokeless fuel sits on a grate) whilst wood performs best when there is no air from below (hence if there is a grate instructions will tell you to "build up a bed of ash" to seal the holes in the grate).
The advantage of "wood only" stoves is a little more room for logs and a smug feeling of being environmentally friendly ;-).
The advantage of multifuel is that you can choose your fuel.
Size Of Stove
Stove heat output is measured in Kilowatts Per Hour (Kw) and the figures usually given are "nominal heat output", "maximum heat output" or both. Stove efficiency is measured in % terms (how much heat emits from the stove after the rest goes up the chimney).
To be honest the figures are a very vague indicator. Prior to stoves being tested manufacturers get to specify the nominal heat output as they wish. They can then choose the fuel size and the re-fill period (min 45 mins but no maximum). As long as the heat output is obtained then the average efficiency is measured and the stove passes. The stove manufacturers can play around quite a bit to get the picture they want (varying output and efficiency). E.g. a stove once tested at 6kw has actually been retested at 4kw in order to obtain a better efficiency figure. Comparing the heat outputs or efficiencies of stoves is not at all accurate for this reason. At the end of the day a stove is a metal box that you burn wood in: the quality of the wood + refuel period = what heat you get out. So the bigger the box the more wood you get in. Simples.
The figure you really need is the "maximum heat output". Some manufacturers provide such figures as "3-6kw" or "5-7 kw". I quite like this as it at least shows you what you will get if you come over all "Casey Jones" one evening 😉
In order to calculate the size of wood burning  or multifuel stove required, measure the width, length and height of your room and then multiply the three measurements together, i.e. width 4m x length 8m x height 2.8m = 89.6 cubic metres (room volume). If your room or house is new build and fitted with very good insulation then divide the room volume by 25. If the room has average to good insulation then divide the volume by 15. If the insulation is poor or non existent, then divide the rooms volume by 10. If in doubt use 15.
In our example above, the room is fitted with average insulation so we divide the rooms volume by 15 and the Kilowatt requirement is shown to be 5.97 Kw.
If you have two rooms with an arch in between then treat the situation as one room. If your room is open to upstairs then it really is "finger in the air" stuff. In the case of an open staircase to upstairs I would usually add 10-20% to your Kw figure.
Something else worth bearing in mind is whether or not you want the stove to heat the room without any assistance. If you have a 2kw radiator in the room and it will "always be on" then that 7kw stove can be reduced down to a 5kw stove. Personally I think it best that the stove can work alone to heat the room so that the central heating can be turned off to save energy costs. But some people will treat the stove as "an aesthetic addition" and in this case one can take other heat input into account.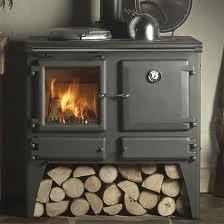 An important issue when choosing stoves is, for many, the air vent situation.
In new build properties, or properties likely to be as airtight as such a property, there MUST be an air vent within the room (venting to outside). The air vent aperture increases in size depending on the KW output of the stove (this being very approx. equivalent to a 50p piece for each KW – so a 5kw stove requires an area equivalent to 5x50p pieces). More of this and more exact details can be found within this manual.
In older properties that are not deemed as airtight then the rule is the same but you get the first 5kw free. In other words a 5kw stove has no air vent requirements, whilst a 6kw requires one 50p sized hole, a 7kw two 50p sized holes (or equivalent) etc. Once again the 50p comparison is very approx. and used just as a rough guide at this stage. More of this and more exact details can be found within this manual.
If you really do not like the idea of an air vent but one is required – there are a few stoves within the market with integral air vents, (a pipe travels direct from stove to outside) and there is no hole in the wall to leak building heat.
Note that you should not fit a solid fuel stove in any room where there is an extractor fan unless you first seek specialist advice (a HETAS engineer or Building Control Inspector). Better to disconnect the fan and not use it (a fan might cause air to be pulled into the room from the stove and cause CO problems).
Smoke Control Areas
You need to know if you are in a smoke control area or not as you cannot burn wood if you (don't panic there's a way around it).
If you are in a Smoke Control Area then you can only burn authorised fuels (generally just smokeless fuels, although the list is available from DEFRA) and NOT wood.
However, if you install a DEFRA-approved stove then you will be able to burn "exempt fuels" (fuels exempt from restrictions). Each stove has its own exemptions list but in practice the main one is wood (properly seasoned). In other words a DEFRA approved stove can burn wood in a smoke control area if wood is on that stove's exemption list (wood usually is but do check).
Another advantage of a DEFRA approved stove is that it can legally be attached to a 5″ chimney liner, but only if the stove has a 5″ collar and the manufacturer does not insist on a larger diameter (e.g. 6″). In all other circumstances Building Regs state that a liner must be 6″ minimum (or more if stove manufacturer says so). A 5″ liner can be very desirable, or even necessary, if a chimney requires lining but is very narrow or difficult. Note that there are very few stoves above 6kw with a 5″ collar but plenty of 6kw and under.
The difference between a non-DEFRA approved stove and a DEFRA approved stove is very little. In fact modern stoves can, in some examples, be modified to become DEFRA approved with a kit (supplied by the stove manufacturer). The kit makes changes to the stove's air vents, changing the design so that the stove cannot be fully closed down to full slumber. A slumbering stove will more likely clog up a flue with soot and tar so is not a good thing. A DEFRA approved stove will burn all the time and will not slumber and therefore is far less likely to send part burned combustibles (soot etc.) skyward. Good for the environment and less likely to clog flues (hence the 5″ being allowed as the narrower pipe far less likely to clog with soot than with a non-DEFRA approved stove).
Full details of smoke control areas here: DEFRA Smoke Control (opens in new window).
What To Look For In A New Stove
Do not order your stove until you have digested the information within this site and especially, if the stove is to be fitted into a recess, not before you know the size of your recess and the stove clearance requirements (stoves require an air gap at the sides, rear and top). The SFM Stoves Database allows you to input the width of your recess and search for stoves that fit with the required left and right air gap (rear and above stove gaps also require consideration but the width is usually the most problematic).
There are so many good stoves on the market that I am not going to try to recommend any particular brand. I have fitted everything from £250 to £2,000 and all have a place in the market. I would though look for a few things:
1. Reasonable size door opening so you can fit reasonably-sized logs in (SFM database includes max. log lengths)..
2. Adjustable legs or feet to prevent the stove rocking (such a necessary feature when fitting your stove, especially to a natural slate hearth).
3. Well known brands do tend to have less risks when it comes to quality and customer service.
4. DEFRA approved with a 5″ collar if your chimney is tight (even if fitting a 6″ liner you have the backup of a 5″ if the 6″ will not fit your chimney).
5. Make sure you can talk to somebody on the phone should you need to after the stove has been delivered.
6. What is the max. output in KW?