Posted by
Julian Patrick
on Mar 2, 2013 in |
Comments Off

on Can I fit my own wood burning stove?
You can do it. There I've said it. I'll say it again. You can do it. Answer YES to "Can I fit my own wood burning stove?".
If you have the patience to read the relevant sections of this website then you can do it.
If you are fit enough to hold a drill and sling a few bricks around then you can do it.
Yes you can legally. Every year thousands do it!
If you have the time and the energy you can do it.
If you can fill in a Building Control Form you can do it.
It is not rocket science.
You can almost always hire ladders, cat ladders locally for very reasonable rates and safety harnesses and safety lanyards are available very cheaply online.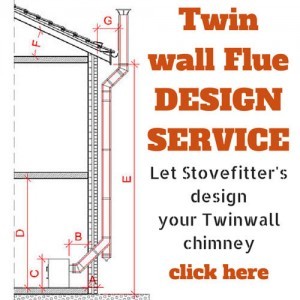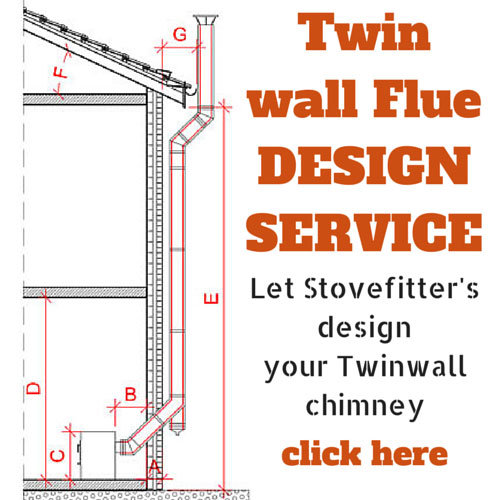 Here's an email I got from William:
"Hello Julian,  I am 66 years old, always loved DIY projects. Never fitted a log burning stove before, but with the aid of your web site, which is so comprehensive, easy to read, with a nice, personal touch to it, it made the job do-able.  I did it all myself, except the heavy bits and getting the flu liner in, but I have to stress that without your web site I don't think I would have tackled it.  The building inspector passed it fit for use yesterday, so I'm going to celebrate this weekend with a bottle of bubbly.  Many Thanks   —   William!"
Fitting a chimney liner worry you? TOP TIP > choose a stove that will accept a 5″ liner as these skinny tubes slide down 99% of chimneys with ease.
Climbing ladders a stumbling point? TOP TIP > Pay a roofer for half a days work – just tell him what to do.
Purchase your stove/materials from this site and I'll be there for you if you have any questions. See something you are not sure of? Just call me (or take a pic and email me).
I have met many people who fitted there own stoves. I met one person who installed a stove and a full wet system, radiators the lot – with no prior knowledge.
Together… we can do it.
Julian Patrick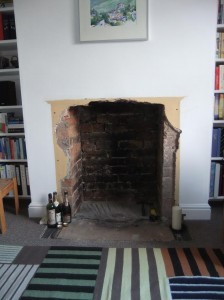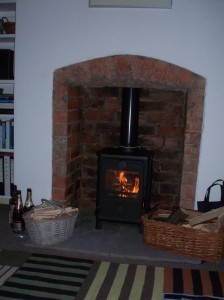 Hi Julian. The Morso Squirrel is now fitted and has been signed off. All work carried out by me apart from someone helping drop the liner and fit the cowls (I don't like heights!). Thanks again, Matt.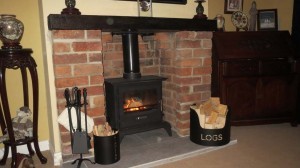 I really found your manual site exceptionally well laid out and written for us DIY people. A local HETAS fitter allowed me to do some of the work under his supervision and I now have a legal and beautiful stove.
Many thanks for your assistance and concern. I have several envious people interested now in installing a stove, nothing like a real fire to get people going, so I am recommending your site to all. Well one and again Thankyou.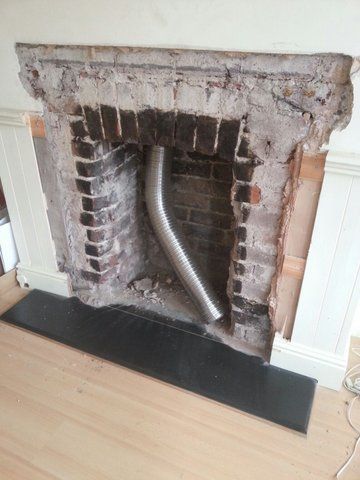 I ordered the Burley Debdale 4kw stove, 8 metres of stainless 904 Duraflue liner and the excellent fitting pack from The Stove Fitters Warehouse – and I've been staggered how simple the whole process has been. I did every part of this installation myself, from removing a redundant back boiler and stone fireplace, to opening out the builders opening, installing the liner and fitting the stove. The manual online which Julian has carefully crafted is absolutely brilliant. I've already recommended to a friend of mine.
It was 20 degrees outside yesterday on a warm June afternoon, but it didn't stop me lighting up the stove for the first time. Wow, tremendous heat output and flame picture. Amazed at just how good the fireball effect looks. Regards David