Posted by
Julian Patrick
on Sep 5, 2015 in |
Comments Off

on Aduro 16 review
The first time I saw the new Aduro 16 5kW stove I knew I was going to like it – just look at that curvy-crystal-shiny glass! And the rest of it looks rather smart as well – sort of strong-cute. And it's got a gizmo…. gotta-love a gizmo… I think… read on to see what I do think.
Aduro is one of Denmark's finest stove ranges – well amongst the finest I have seen so far anyway! The Aduro 16 is the model that I predict will be their big seller; they have others but the 5kW market, square box shape, is the size is where most of the buying action takes place.
The Aduro is very heavy (not weighed it yet but tried and failed to pick it up), very well made (thanks Aduro), with a huge viewing window, DEFRA approval for smoke control areas (expected October 2015) and proper moulded firebricks. It cannot however be sited on a 12mm hearth, requiring a full constructional hearth (which most recesses will have anyway) so may be unsuited to some freestanding in room situations.
The Aduro 16 has a five year guarantee (if you register it within a month of purchase and don't forget such things like what I do).
Here's a few specs:
Flue: 152mm (6″) top or rear (needs Euro-Adaptor)
Dimensions: (HXWXD) 57.4 x 63.5 x 46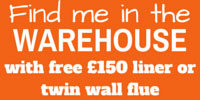 Now to the Gizmo. It is called Aduro Tronic. Love it, want one already, what's it do? Well, apparently, it reduces your wood consumption by 40%! Hooray! How? The stove's Primary Air is drawn in through the lower air control (silver thing bottom middle). Whenever you load fresh wood you open this air control (pull the silver bit out) this allowing air into the stove at a rate that will assist the wood to really get going nicely. Then, after exactly five minutes, the control closes automatically (simple manual spring design) – leaving you to operate the stove using the secondary air control. The reason for the stove taking over is that you cannot be fully trusted to always remember to calm the fire down once your wood has "got going" – so the stove closes it for you (it's for your own good).
Don't worry – the gizmo is easily replaced should it ever go wrong and it can also be overrriden as required. To be honest, and joking aside, I don't usually want gadgets and gizmos on my stoves. However, this one is simple and effective – it works.
The Aduro has amazing controllability – see my video above – sorry about the ending 😉
So, the final verdict? I want one, I really, really want one. This stove is now head to head with my other favourite 5kW (the DG Ivar). And I know I shouldn't let such frivolous things sway such an important decision… but the Ivar hasn't got a gizmo.